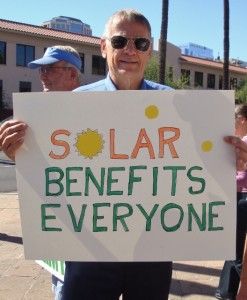 Arizona Public Service (APS) Company, an Arizona utility monopoly, had asked the the Arizona Corporations Commission (ACC) board to add substantial fees to residential solar customers monthly bills. Last week, thanks to thousands of Arizona residential rooftop solar supporters, their efforts were turned back.
Opposition to the APS proposal was led by TUSK, Tell Utilities Solar won't be Killed, a coalition of Arizona leaders, solar companies and Arizona voters. You, and people like you who have or want rooftop solar, care about Arizona's environment and support energy independence and Arizona technology innovation, have pushed back the requested sizable increase in fees for solar customers.
The ACC has approved a fee for rooftop solar customers of just 5% of what APS had asked. It amounts to an average of $5 more per month in fees for new APS rooftop solar customers starting after December 31, 2013 (APS has sought $50-70 per month).
What does this mean to you? It means that rooftop residential solar is supported by a majority of Arizona voters. The rate hike fight has brought out Arizonans in support of rooftop residential solar. 67% of Arizona voters now want to encourage the use of solar power, up from 57% in March. The next opportunity to support solar energy installations in Arizona will come when APS opens a rate in 2015.
Call us with any of your questions or concerns about your own rooftop residential solar option.